Winter Wedding Menu Guide

There is nothing more romantic than a winter wedding, when snow is on the ground and frost is in the air. However, a big part of setting the right tone for your seasonal celebration is getting the reception menu just right – you need to select the correct dishes to make your guests feel warm and comforted, while getting them in the mood for a festive celebration. Luckily, the colder season lends itself well to all kinds of luxurious and delicious offerings that are sure to impress your friends and family. To help you choose the perfect menu we have created this guide to the best seasonally inspired foods and drinks to serve at your winter wedding reception.
Warming Drinks for Winter Weddings
While cocktails may seem to be better suited to a summer event, there are still plenty of delicious and warming alcoholic beverages that you can serve your guests at your winter wedding reception. Mulled wine is ideal if you are marrying in the colder season and, with its fruity and spicy aromas, it adds a festive touch to your special day. For those who are not drinking alcohol, consider serving up a non-alcoholic mulled apple juice instead, or steaming mugs of hot chocolate topped with marshmallows and whipped cream for an indulgent, toasty treat.
Start With a Soup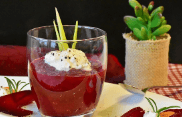 Pairing soup and salad is a popular winter wedding reception trend, so if you are marrying during the colder months, consider serving up a first course of thick, hearty soup such as a bowl of classic potato and leek or a serving of traditional Scotch broth. You can pair this with a classic goats' cheese salad with rich greens for an indulgent and luxurious beginning to the meal. If you are looking for a more contemporary touch for your big day, you could always follow the modern trend for miniature portions and serve up soup shots in mini mugs for a portable, sippable snack to warm your guests and whet their appetite before the main meal.
Comforting Appetizers
Whether you are serving a meal in formal, sit down style, or whether you are opting for a more casual style buffet, small portions of popular winter comfort foods make a wonderful appetizer course. Bite sized portions of macaroni cheese in attractive cups, miniature hot cheese tartlets, meatball hors d'oeuvres or even tiny grilled cheese sandwiches are all tasty treats, but won't leave your guests too full to enjoy their entrees.
Traditional Mains for a Winter Wedding
A winter wedding reception is the ideal opportunity to serve all of the entrees traditionally associated with these events. Your guests are looking for something filling that will make them forget the cold weather outdoors and welcome them into the cosy atmosphere of your event. Classic meat dishes like steak, roast beef, chicken wrapped in bacon or crisp belly pork are all wonderful choices for this time of year, especially when accompanied with seasonal root vegetables and creamy dauphinoise or mashed potatoes. Why not abandon the traditional table service and instead go for a carvery approach where guests can help themselves to meat and sides, eating as much or as little as they like? With a winter reception, you can even opt for a dinner featuring British pub-style classics such as toad in the hole or shepherds pie – what could make your family and friends feel more welcome? If you would like to add something a little more unusual to your table, why not consider arranging a potato bar offering fries, baked potatoes and mash together with an array of popular toppings like coleslaw, cheese and chilli – nothing keeps out the chill better than a healthy helping of carbohydrates!
Delicious Desserts for the Cold Season
No matter how delicious your main courses may be, your guests will still be excited to see what is for dessert, so be sure not to let them down. Winter is the perfect season for serving warm puddings like apple pie, jam roly poly, syrup sponge or creamy rice pudding. Alternatively, luxurious individual chocolate lava cakes make an impressive choice, with thick molten chocolate in their centre.
A Festive Menu
If you are planning your celebration close to Christmas, you may want to incorporate some festive touches into your menu. There are many ways that you can do this, from subtle touches of seasonal flavours like cinnamon and ginger to offering traditional favourites like turkey and Christmas pudding as part of the meal. Some clever ways to bring the holiday into your special day include serving a Christmas tree shaped cheese course, presenting each guest with a snowy vanilla milkshake topped with fluffy whipped cream and decorated with a sugar snowflake, or dishing up a dessert of chocolate snowballs with their coconut dusted surface and centre of squishy marshmallow.