Summer Wedding Reception Food Ideas

Summer is the most popular season in which to get married, but when you arrange your nuptials for this time of year, it is important to choose the right types of food for your reception. Sunny, warm days lend themselves to a lighter style of cuisine, and so you may want to avoid some of the more traditional wedding dishes and consider selecting something that better suits the season. Whereas during colder weather it may be fitting to serve a heavy meal of soups, meats in creamy sauces and stodgy desserts, when the weather is hot your guests are sure to prefer something less heavy and yet equally as indulgent. There are many delicious foods that fit perfectly with the summer weather, and here are some of the top food and drink ideas that will be ideal for your summer celebration, whether you are catering for your own event, hiring a venue, or using the services of a chef.
What to Drink?
Let's not beat around the bush – drinks have a major role to play in any wedding celebration, so it is very important to tickle your guests' taste buds with a selection of summer-friendly drink options that will never fail to impress. Cocktails are always a summer favourite, and what could be more perfect to toast your wedding day than a champagne based cocktail such as a Bellini, or a glass of chilled prosecco with a frozen strawberry on a cocktail stick served as a garnish? Alternatively, why not capture the essence of summer fruits with a raspberry liqueur flavoured iced tea, or enjoy the refreshing chill of a traditional Moscow Mule? For the drivers at the party, or for those who prefer non-alcoholic beverages, some freshly made lemonade is a tasty and tangy alternative, or why not go for giant jugs of iced tea topped with fruit garnishes on every table? For an extra decorative touch, gourmet ice cubes are a delightful suggestion. By adding flowers, herbs or berries to the water before it is frozen, these beautiful cubes can be added to glass jugs of water to make an unusual yet attractive centrepiece.
The Perfect Start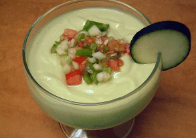 Start as you mean to go on by serving up delicious cool appetizers that will tantalise your guests without filling them up so much that they won't want to sample your main course. Go for a seasonal take on the traditional soup course by offering gazpacho shots in cucumber cups, or serve miniature Caesar salads. Another excellent idea is a raw oyster bar, perhaps featuring ice sculptures for an extra decorative touch, or, for those who prefer more classic appetizers, a traditional shrimp cocktail served over shaved ice. Your vegetarian guests will no doubt appreciate an inventive and attractive meat-free option, so serve them up some Caprese skewers – basil, mozarella cheese and tomato slices served on cocktail sticks.
Entrees – Summer Style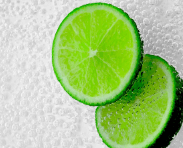 A summer wedding reception is the ideal time to serve up a main course that avoids all of the dull old traditional offerings. The warmer months are a time for barbecuing, so eschew the heavy pork chops and steaks that may be served at a winter celebration and instead go for something lighter with a hint of seasonal flair – perhaps grilled fish with mango salsa topping or chicken breasts rubbed with a chilli and lime seasoning, all freshly cooked on the barbecue. Fruity flavours are sure to conjure up the essence of summer while the chargrilled aroma is perfect for the season. Alternatively, for a more informal occasion, why not consider a picnic-inspired buffet with finger sandwiches and chicken drumsticks, or a carnival-themed spread with miniature hot dogs and burgers, candied apples, popcorn and a candy floss machine?
Divine Dessert Ideas
No reception meal would be complete without a delicious dessert, so add a touch of summer flair to your sweet menu with something light, airy and cool. What about a fruity sorbet that reflects the colour theme of your event? Or why not consider having an ice cream bar with a choice of flavours, toppings and cones? Miniature desserts are very fashionable and are also the perfect snack with which to round off a tasty meal without leaving guests so full that they have no energy left for dancing. Tiny key lime pies, mini lemon cheesecake bites and lollipop style cake pops are all delightful options to end the perfect day, or how about cubed watermelon, served on a bed of ice? When it comes to your wedding cake, you may also want to consider opting for something less traditional. An individual cupcake display with pale coloured frosting and decorative floral touches calls to mind a summer garden and is much easier to serve up than a classic fruit cake.