How to Plan Your Wedding Reception Menu

Your wedding reception is a major part of your special day, so making sure that you plan properly for the menu is essential to the success of your celebration. There are many things that you need to bear in mind when planning the arrangements for your reception, and here are some considerations that you should take on board to ensure your big day goes smoothly.
What Kind of Meal to Arrange?
The first question to ask yourself before planning your menu is the type of meal that you want to arrange for your guests. There are several different options open to you when organising a reception event and you need to be sure that you are choosing the one that best suits your own tastes, the guests that you are inviting and also, most importantly, your budget. The most traditional type of reception, the sit down formal dinner, is ideal for couples who are hiring a venue and who don't mind lingering over their meal for a couple of hours, however if you are hoping for a reception with a party atmosphere, it may be more appropriate to offer a buffet which will allow guests to dance and drink while snacking throughout the evening. If you are on a low budget, a cocktail party may be an even better idea, only providing hors d'oeuvres or snacks for your guests, while anyone looking to host a more informal event may even prefer to go for a casual barbecue in their own back garden.
How Much Food to Serve?
Once you have decided on the type of meal you wish to host, you then need to decide on the amount of food to serve. It is very important to provide sufficient to go around as nobody wants their guests to go home hungry, so if you are going for a buffet, make sure to ask your caterer's advice as to how many dishes you require. If you are arranging a sit-down dinner, you have a choice over how many courses to serve. Should you wish to go all-out, you can arrange for canapes and cocktails before dinner, followed by appetizers, salads, an intermezzo course, entrees and then dessert followed by coffee or tea, however it is important to remember that this comprehensive option will not only be very expensive but will also eat into your available time for celebrating. Most venues and caterers will be prepared to tailor courses to suit your preferences and budget, and many couples prefer to go for a simple three course meal.
Traditional or Contemporary?
While there are many traditional foods which often appear at wedding receptions, there is no need to stick to the classics when arranging your menu. Offerings such as prawn cocktails, chicken and baked Alaska may be standard fare but if you choose the right caterer, you can come up with a modern twist on these classics or even go for something completely different. When devising your menu, you should work closely with your caterer, discussing your preferences and dietary requirements. Remember that you are catering not only for your own tastes, but also for those of your guests and while you will never please everyone 100% of the time, you should be prepared to compromise in order to satisfy as many people as possible. As a rule, you should avoid choosing anything too hot or spicy and steer clear of offering anything excessively outlandish or unrecognisable as this is unlikely to appeal to your more conservative guests.
Accommodating the Crowd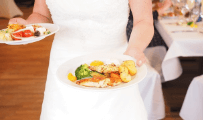 It is also very important when planning your reception menu to remember that there are many people who have dietary restrictions or special requirements when it comes to dining. When sending out invitations, make sure to find out if you are catering for any vegans or vegetarians and whether any of your guests suffer from food allergies or intolerances that require a special diet. If you choose a good caterer, they should be able to accommodate meat-free, gluten-free or sugar-free diets, and it makes sense to choose some simple items on your menu that can easily be adapted to accommodate most diets. Bear in mind also that if you are inviting families with children to your reception you may need to provide food options that are child-friendly. Although some children are perfectly happy to tuck into more adult-oriented options, others can be fussy eaters and when the children are hungry and grumpy, their parents cannot relax and enjoy your special day. Providing a dining option that caters for the needs of your younger guests – perhaps some plain chicken, some sausages and mash, or macaroni cheese will reduce stress and will keep all of the members of your party happy when it comes to the meal time.

There is nothing more romantic than a winter wedding, when snow is on the ground and frost is in the air. However, a big part of setting the right tone for your seasonal celebration is getting the reception menu just right – you need to select the correct dishes to make your guests feel warm and comforted, while getting them in the mood for a festive celebration. Luckily, the colder season lends itself well to all kinds of luxurious and delicious offerings that are sure to impress your friends and family. To help you choose the perfect menu we have created this guide to the best seasonally inspired foods and drinks to serve at your winter wedding reception.
Traditional Mains for a Winter Wedding
A winter wedding reception is the ideal opportunity to serve all of the entrees traditionally associated with these events. Your guests are looking for something filling that will make them forget the cold weather outdoors and welcome them into the cosy atmosphere of your event. Classic meat dishes like steak, roast beef, chicken wrapped in bacon or crisp belly pork are all wonderful choices for this time of year, especially when accompanied with seasonal root vegetables and creamy dauphinoise or mashed potatoes. Why not abandon the traditional table service and instead go for a carvery approach where guests can help themselves to meat and sides, eating as much or as little as they like? With a winter reception, you can even opt for a dinner featuring British pub-style classics such as toad in the hole or shepherds pie – what could make your family and friends feel more welcome? If you would like to add something a little more unusual to your table, why not consider arranging a potato bar offering fries, baked potatoes and mash together with an array of popular toppings like coleslaw, cheese and chilli – nothing keeps out the chill better than a healthy helping of carbohydrates!